Feeling Thankful – AGAIN
Greetings – hope you are well in all aspects of your life.  Our family collected great memories (again) this year – let us share a few.
Grant's UW Graduation
We converged in Seattle in June to celebrate Grant's graduation from University of Washington Information School with a bachelor's degree in Informatics, Data Science.  We could say he had to work really hard to graduate (he did) but he also created great memories through his membership in the Alpha Delta Phi fraternity, and I have memories of the annual Dad's weekend with Huskies football; Karen has memories of the yearly Mother / Son dance).  Grant accepted a job offer with Avanade, a large IT company with Headquarters in Seattle.  He and 2 ADP brothers are renting a condo in the Capitol Hill neighborhood.
Drew and Claudia Excellent School Experiences
Both are in their sophomore years.  Claudia continues at Loyola Marymount University in LA, studying International Relations, on the cheer team and joined Pi Beta Phi sorority.  Her motto: work hard / play hard / chill hard.  Drew is at University of Puget Sound in Tacoma studying Economics and joined the Sigma Chi fraternity.  He volunteered as the philanthropy chair and organized a charity event for the Huntsmen Cancer Institute – he, and a few brothers cut their hair off for the cause.  Claudia visited Drew at his school in October – the twin bond endures.
Zack
At home, working, enjoying friends, music and tie dye.  He is saving $$ for travel.
Karen
As mentioned last year Karen was considering a Spinal Cord Simulator Implant.  Early in the year she received a temporary version and felt immediate improvement.  About 2 months later, she had the permanent version implanted, and although it helps, Karen continues to work with her doctors to maximize results.  Although medically retired she gets out to see friends frequently, exercises at the gym most days, and enjoys going to the theatre in SF.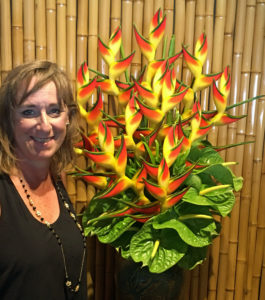 Marc
I continue working for Chevron in Kazakhstan – great people, engaging work and enjoy the benefits of rotation life.  I have been fortunate to learn about the Kazakh culture – family oriented (many times grandparents, parents and children live together), welcoming, diverse, interesting history and celebrations.  I consider myself lucky that my career brought me here.
Members of the Tengiz Big Hat Club
My new back-to-back Sharon Molnar
We bought an apartment building in Oakland.  I had been thinking about doing this for a few years – enjoy the process of caring and improving buildings.  Fall of 2017 I spent some time researching, and then we became active buyers early in the year.  Mid-year we found a sweet four unit building that has character, excellent location (near Rockridge BART), big garden, roof top deck with a view, and a "Superintendent" office.  Zack helps manage the building while I am away – so far so good.  This is not a fix and flip investment; see us owning this for 20+ years (Marc's retirement hobby).
Up on the Roof (bee hives behind us)
Vacation in Italy
Karen and I visited Amsterdam, Venice, Florence, Pisa (day trip), Cinque Terra and Rome in September, staying in each location for three nights.  Karen was our travel agent – selected memorable places to stay in each city.  The last time we visited Europe was when we were dating (in an attempt to impress her, I took her to Paris during her last year of residency in Houston).  We comfortably worked around Karen's limitations, had a few early nights, but did lots of sight seeing, museum visits, walking and memorable meals.  We foresee more travel in our future as this is Karen's retirement hobby (I accompany her to carry the bags and make the dinner reservations).
Venice
Pisa
Manarola (Cinque Terra)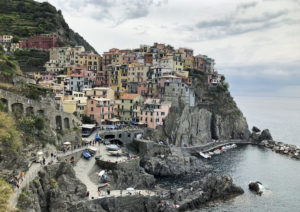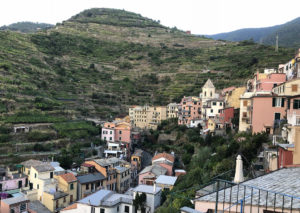 Sedona and Hawaii with Papa
Karen and I visited her Dad Dick Weisbaum in Sedona in February – nice hanging out with him for a few days.  In October, we stayed with Papa at his timeshare in Maui.  This was a relaxing low stress holiday – mostly chilling by the pool or taking walks along the beach.  We did visit Mama's Fish House – food, drink and view are all top notch.
View from Papa's Sedona Home
Mama's Fish House
Maui pool cat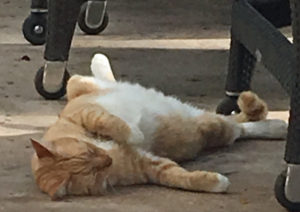 Our Extended Family
2018 was another enjoyable year connecting with family.  Most of our family was in Seattle to celebrate Grant's graduation – Karen's brother Bruce, Courtney and Cooper attended as well as our nieces Lauren (w Jaimie, Rose and Beatrice) and Alison (w Graeme).  This Christmas we were fortunate to celebrate with Papa, my sisters and mates, Joanne and Steve, Robin and Rodney, and our Nephew Kevin (w Tina, Chris and Carson).
Marc's Sisters Robin and Joanne
Weisbaum-Evans Clan
Nieces Lauren and Alison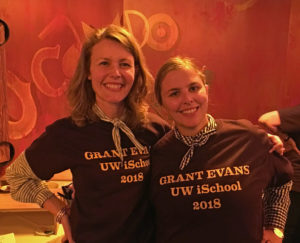 Family Christmas Gathering
Happy New Year
To you, your family, friends, pets, co-workers and anyone else who may read this.
Hoping our paths will cross again soon.
Marc, Karen, Zack, Grant, Drew and Claudia Evans